10.20 美国 DJ LA BASS 的音乐夜 / 10.20 House & Techno Night w/ LA BASS
October 20, 2018 @ 22:00

-

October 21, 2018 @ 22:00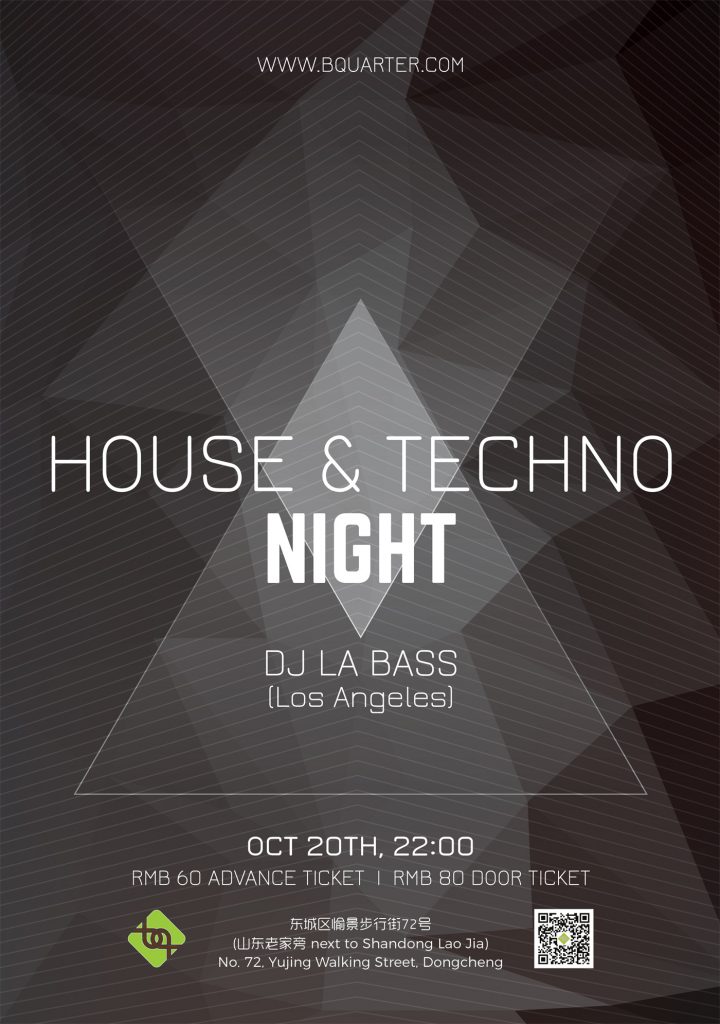 如何鉴定你是否是一名 House & Techno 音乐爱好者?
你在东莞寻找到好的 House & Techno 音乐播放地吗?
欢迎来到 B Quarter !我们将会邀请熟知这类型音乐的著名 DJ LA BASS 在 B Quarter 制造一些不一样的声音!
Are you a true House & Techno music lover?
Have you found a gig in this town where legit house & techno music is played?
B Quarter doesn't play house & techno that oftern, and we have been looking for good DJs who know the music well and have great selections of house & techno.
LA BASS 來自洛杉磯,DJ历程已經8年了。
他曾在不同的場館演出,包括在美國洛杉磯和日本大阪。
Techno、trance、house 音樂类型一直是他的最愛。搬到中國後,他把 progressive 和 bass house 加入了他的播放列表。
LA BASS comes from Los Angeles and has been djing for 8 years.
He has played in different venues and gigs in Los Angeles, USA and Osaka, Japan.
Techno, trance, house music have been his favorites. After moving to China, he has addded progressive and bass house into his playlist.
灯光!音乐!这些都是一个好的演出的必备因素,尤其是对于一场优秀的 House & Techno 音乐派对。
而 B Quarter 一流的音响系统相信会是一个不会让你失望的选择。
没有骰子,放下手机,这是一场真正的属于 House & Techno 的音乐饕餮盛宴!
Sound & light are important for any gigs, especially for house and techno parties.
B Quarter is known with the concet grade sound system and you won't be dissapointed if you haven't been to our parties.
This is a true music gig, it's not for you if you only play with dices and phones in a bar or club.
100元含4款酒品,现场更有Tiger啤酒20元特价哈!
而现场每一个狂欢的小时里,我们都将会有幸运儿诞生,免费的shots将送给这些幸运儿!
希望这支幸运之箭射中的就是你!让 B Quarter 陪你一起制造不一样的声音!
100 RMB per person for four 350ml drinks (Alcohol + Mixer), plus special 350ml Tiger Draft Beer for 20 RMB!
Free shots will be given out to random guests every hour, let's see whether you are the lucky ones.
日期/时间: 2018.10.20 (星期六) 22:00 开始
地点: B Quarter
地址: 东莞市东城区愉景步行街72号 (山东老家旁)
入场费: ¥60 的预售门票包含1杯特饮 (预售票,10月20日下午6点停止售票), ¥80现场票
– 联系 Billy 购票,票量有限
派对元素:
– 来自美国洛杉矶的特邀嘉宾 LA BASS
– 特殊的室内霓虹灯/一流的音响系统
– 派对特价饮品
– 每小时进行的幸运免费shots赠饮
Date/Time: 2018.10.20 (Saturday) starting @ 22:00
Venue: B Quarter
Address: No. 72, Yujing Walking Street, Dongcheng (next to Shandong Lao Jia)
Entry Fee: RMB 60 with one special drink (advance ticket, no more ticket sales after 18:00 on Oct 20), RMB 80 door tickets
– contact Billy to get tickets, limited tickets available
Party Elements:
– Special guest LA BASS from Los Angeles, USA
– Dark neon room w/ great sound system
– Drink Specials
– Free shots for random guests every hour