09.22 我们三周年+Billy生日派对 / Our 3rd Anniversary + Billy's B-Day
September 22, 2018 @ 21:00

-

September 23, 2018 @ 03:00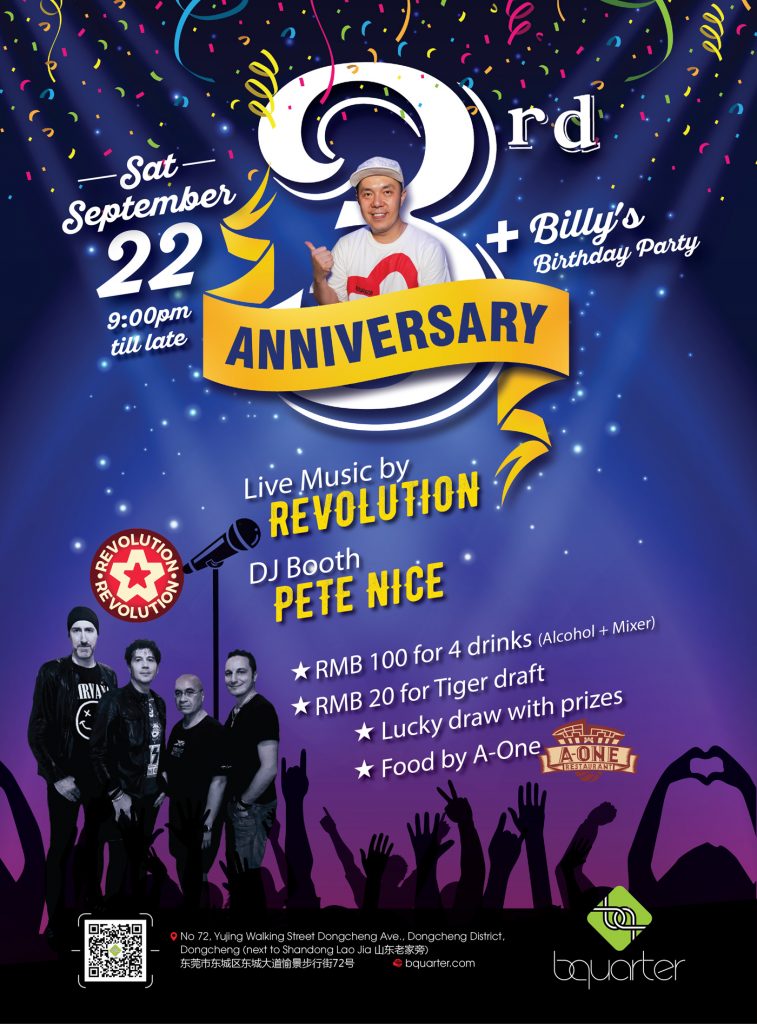 双重喜事来袭!9月22日快来快来B Quarter庆祝其创店三周年,还有Billy的生日!晚9点闹到要多晚有多晚,Revolution乐队和DJ Pete会rock整场派对。派对上的食物由A-ONE体育主题餐厅倾情提供,100元含4款酒品,现场更有Tiger啤酒20元特价哈。抽奖自然是少不了的!有东莞红糖罐赞助的音乐门票、A-One优惠券还有狮子洋的航前贵宾室使用券哦!
A double delight! Come and join us on Sept. 22 to celebrate B Quarter's third year, and Billy's Birthday! Party from 9 to…whenever, while rocking to the beats of the Revolution Band, and DJ Pete! There will also be food provided, courtesy of A-ONE, 100 RMB per person for four drinks (Alcohol + Mixer), plus special Tiger Draft Beer for 20 RMB! And, of course, a lucky draw with great prizes! Concert tickets from Brown Sugar Jar, food vouchers from A-ONE and VIP lounge coupon for Sea's Young.
B Quarter是一个独特的地方,其音响设施尤其惊人,40个喇叭加一个4米的低音炮……70平的空间这音效那是杠杠的!B Quarter举办过非常多成功的主题派对,例如:小黑屋派对、睡衣派对、电子烟派对等等。
B Quarter is a unique space, with an incredible audio system that incorporates 40 speakers and a 4 meter subwoofer…all in a 70 meter space, which guarantees the most intense and immersive music experience possible! B Quarter has hosted may successful theme parties, including Black Room Party, Pajamas Party, Vape Party etc.
这些意味着B Quarter是一个举办私人派对绝佳的场所,加上PartyHERE!智囊团的协助(策划、市场推广、宴会供应)那更是让你的活动锦上添花!
All of this means that B Quarter is your ideal perfect spot for private parties, including PartyHERE! think tank's assistance (planning, catering, and marketing) to make it a truly successful event!
不要忘了还有Billy的生日派对哈。等一下,Billy?谁啊?Billy做得了DJ,MC,当得了大Boss,培训得来实习生,B Quarter的Billy,PartyHERE!的Billy……Billy如此活力四射、专业、狂野、搞笑、严肃认真、友好、有魅力,他更是一个十足的工作狂!总之,你不可能定义Billy这个物种。他能做的事情简直多如牛毛,可能和他的棒球帽一样多吧,对了,参加派对的人要是能猜出他究竟有多少顶棒球帽可以赢得Billy亲自颁发的神秘大奖!
Don't forget it's also Billy's birthday party! Wait, Billy who? DJ Billy, MC Billy, Boss Billy, trainer Billy, Manager Billy, B Quarter Billy, PartyHERE! Billy…Billy is active, professional, wild, funny, serious, nice, energetic, charming and a total workaholic! You can't define what he is. He is capable of doing millions of things, as many as his caps probably. Oh right, any attendant who guesses the right amount of caps Billy has will win a special surprising prize from him!