05.12 东莞第一个电子烟派对 / 05.12 First Vape Party In DG
May 12, 2018 @ 21:00

-

May 13, 2018 @ 01:00
电子烟已成为包括中国在内的全球主要趋势。
B Quarter 总是喜欢和来自不同文化的人一起合作,并努力让更多的人了解他们的文化。
我们非常高兴能得到洛克蒸汽电子烟的支持,我们将于5月12日在 B Quarter 组织一个电子烟派对。
Vape has become a major trend around the world including China.
B Quarter always loves to work with groups from different cultures and try to get more people to understand their beliefs behind.
We are very excited to have the support from Lock Vape and we both will organize a vape party on May 12 at B Quarter.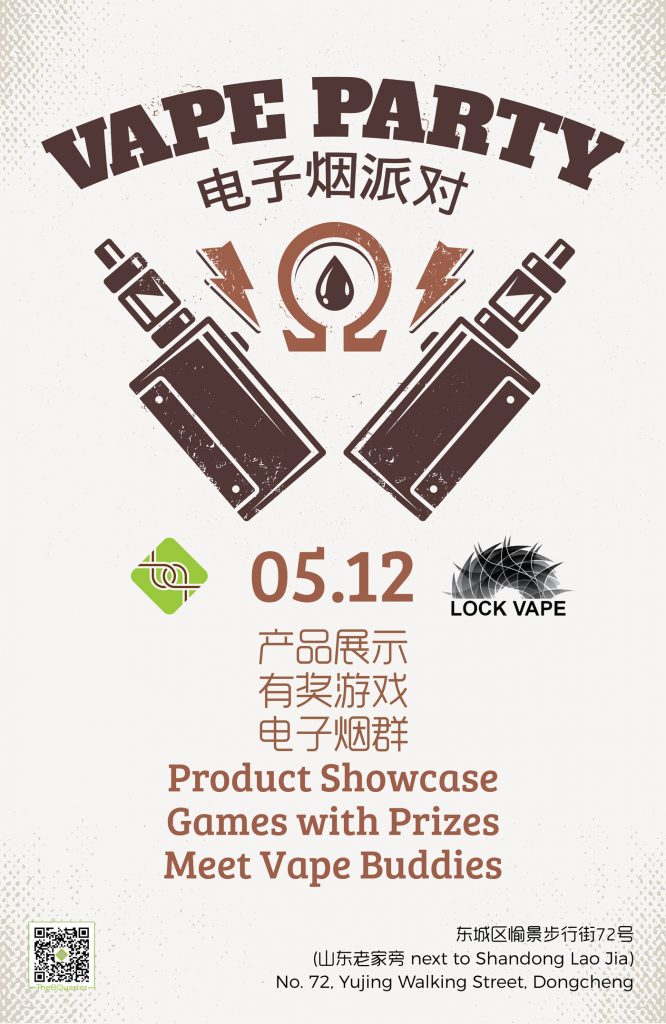 1. 限于电子烟用户 / Limited to Vape Users
这一次活动是专注电子烟爱好者的。
除了要拿到门票,每个人都需要带至少一支电子烟和一瓶烟油来参加聚会。
如果你还没有这些,我们相信你可以很容易地从附近的商店或者你的朋友那里得到这些东西。
We want to make this event very exclusive to the vape fans only.
Besides getting the ticket to the event, everyone needs to bring at least a vape plus a vape oil to enter the party.
If you don't have those yet, we are sure that you can easily get something quick from the nearby shop or your friends.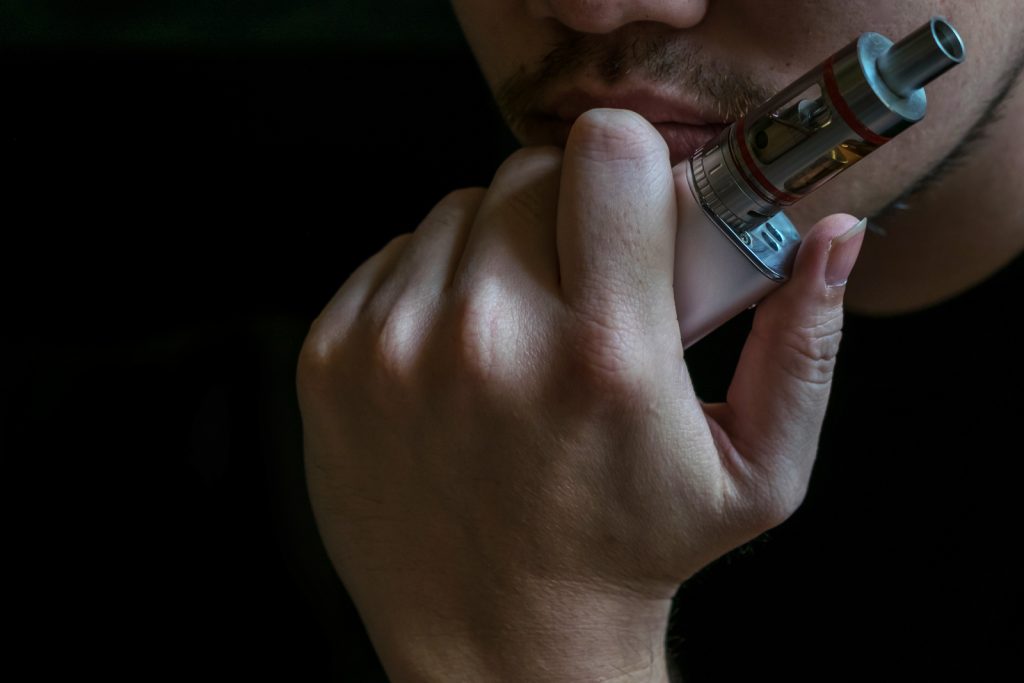 2. 产品展示 / Product Showcase
洛克蒸汽电子烟将展示出最新的电子烟、烟油和其他配件。
你可以看到来自不同品牌的产品,有可能在派对上找到你最喜欢的品牌或产品。
Lock Vape will be displaying numbers of latest vapes, oils, and other accessories.
You will be able to see products from different brands and you may find your favorite brand or product at the party.
3. 经验分享 / Experience Sharing Session
洛克蒸汽电子烟将利用这个机会与我们分享,
– 电子烟行业的最新趋势
– 一些我们应该注意的电子烟事项
– 介绍如何吹电子烟圈
Our friends from Lock Vape will take the opportunity to share with us,
– the latest trends in the vape industry
– some important elements we should notice with vapes
4. 有奖游戏 / Games with Prizes
我们将举办"谁有最长烟云"比赛。
游戏的赢家将会收到,
– 由洛克蒸汽电子烟赞助的一种特殊的烟油
– 12瓶 B Quarter 赞助的索尔啤酒
We will be running the "who has the longest vape cloud" contest.
The winner of the game will receive,
– a special vape oil sponsored by Lock Vape
– 12 bottles of Sol beer sponsored by B Quarter
5. 会面电子烟伙伴 / Meet Vape Buddies
试着从你在活动上认识的新朋友那里尝试不同的烟油。
你可能会发现一些你喜欢的新口味。
你现在应该知道为什么我们需要每个人带至少一瓶烟油来参加派对了。
Try different vape oils from the new friends you will meet at the party.
You may find some new favors you like.
You now should know why we need everyone to bring at least a bottle of oil with you to join the party.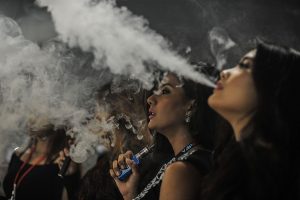 6. 不错的音乐 / Nice Music
这是 B Quarter,音乐是必不可少的元素。
我们将在派对上播放一些很棒的舞曲。
It's B Quarter, music is sure one essential element.
We will be playing some great tunes throughout the party.
日期/时间: 2018.05.12 (星期六) 21:00 开始
地点: B Quarter
地址: 东莞市东城区愉景步行街72号 (山东老家旁)
入场费: ¥60 的预售门票包含1杯特饮 (预售票,5月12日下午6点停止售票), ¥80现场票
– 联系 Hugo 购票,票量有限
派对元素:
– 产品展示
– 经验分享
– 有奖游戏
– 会面电子烟伙伴
– 不错的音乐
Date/Time: 2018.05.12 (Saturday) starting @21:00
Venue: B Quarter
Address: No. 72, Yujing Walking Street, Dongcheng (next to Shandong Lao Jia)
Entry Fee: RMB 60 with one special drink (advance ticket, no more ticket sales after 18:00 on May 12), RMB 80 door tickets
– contact Hugo to get tickets, limited tickets available
Party Elements:
– Product showcase
– Experience sharing session
– "Who has the longest vape cloud" contest with prizes
– Meet vape buddies
– Nice tunes throughout the night