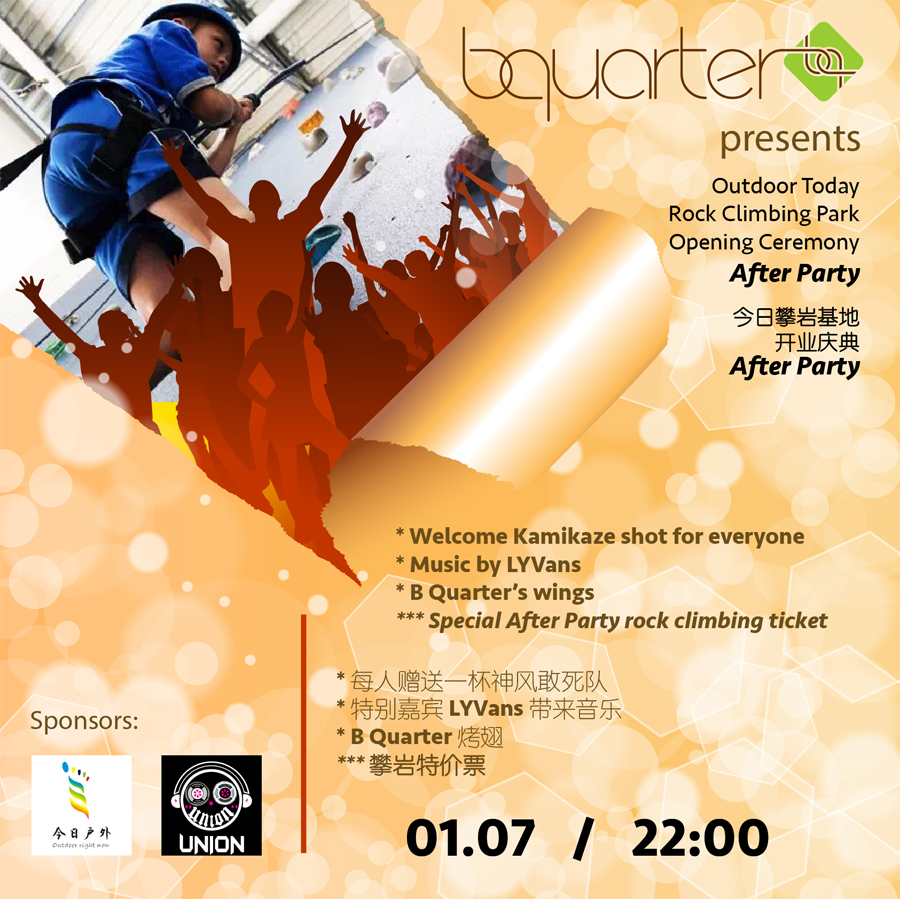 Outdoor Today Rock Climbing Park is official OPEN!!!
There will be an opening ceremony at the 769 Creative Park on Jan 07.
Special guests and friends will be invited to attend the event.
B Quarter is proudly being part of this event.
With the support from Outdoor Today and Union Dongguan, we will be running the official AFTER PARTY after the ceremony.
Date: Jan 07, 2017
Time: 22:00
Venue: B Quarter @ 769 Creative Park
– Welcome Kamikaze shot will be given out to everyone joining the AFTER PARTY
– LYVans from Union Dongguan will be playing his favorite dubstep, trap, hip hop and EDM for you all
– B Quarter's wings will be available for you all to BBQ
Last but not least, special AFTER PARTY rock climbing tickets will be available for people to purchase.
Let's take the chance to try this exciting sport while meeting some new friends over a few drinks and nice tunes.
今日攀岩基地正式开张了。
一月七号将会在769文创园举行他们的开幕庆典。
特别嘉宾和朋友将会被邀请来到这次活动。
B Quarter 亦好高兴可以成为被邀请的一份子。
得到今日户外和 Union东莞的支持,我们将会举办这个庆典的正式 AFTER PARTY。
日期: 2017.01.07
时间: 22:00
地点: 769文创园的 B Quarter
– 神风敢死队将会送给每一个参加 AFTER PARTY 的朋友
– Union东莞的 LYVans 将会放他最喜爱的 dubstep, trap, hip hop 和 EDM 音乐
– 我们为大家准备了B Quarter 鸡翅和烤炉,让大家齐齐动手去烤
所有 AFTER PARTY 的朋友,当晚可以用优惠价尝试攀岩活动。
让我们一起尝试这个刺激的活动的同时,还能享受到音乐、美食、美酒、佳人。