12.24 圣诞派对 2017 / 12.24 Christmas Party 2017
December 24, 2017 @ 22:00

-

December 25, 2017 @ 02:00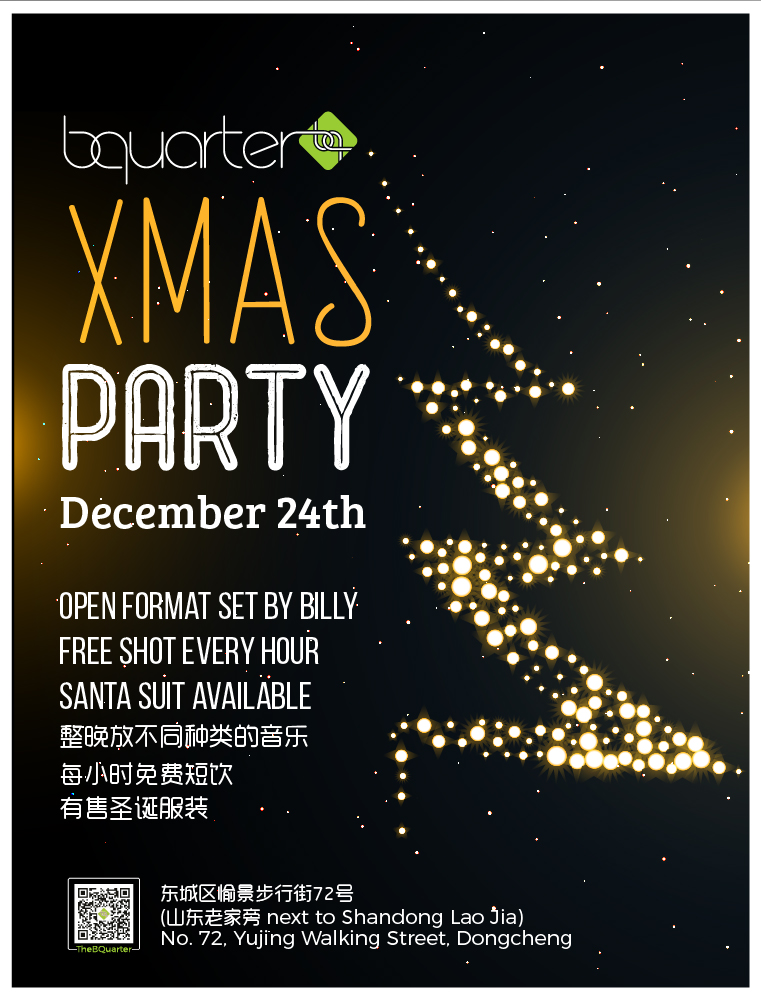 今年你们的平安夜计划是什么?
你们当中可能有人圣诞日要上班或上学,那还会聚会嘛?
哪是必须的!
What is your plan on Christmas Eve this year?
Some of you may need to go to school or work on the Christmas Day.
Will you still party?
Of course YES.

Billy今年将会为大家播放不同形式的舞曲,总会有你喜欢的!
Billy is going to spin at the party this year.
Open format is his thing and he is going to play your favorite tunes.

Hugo将会每小时做出短饮,今年圣诞节,我请你们喝短饮!
Hugo is going to make shots for you all every hour.
It's Christmas, we are going to buy you the shots.

我们的圣诞老人衣服数量有限,尽快预定或购买哦。
要是所有人都是圣诞老人,那该多有趣!
We have limited supply of Santa and Mrs. Claus suits for you to purchase.
Will be fun to have a full room of Santas and Mrs. Clauses.
日期/时间: 2017.12.24 (星期日) 22:00 开始
地点: B Quarter
地址: 东莞市东城区愉景步行街72号 (山东老家旁)
入场费: 免费
派对元素:
– 整晚放不同种类的音乐
– 每小时免费短饮
– 有售圣诞服装
Date/Time: 2017.12.24 (Sunday) starting @ 22:00
Venue: B Quarter
Address: No. 72, Yujing Walking Street, Dongcheng (next to Shandong Lao Jia)
Entry Fee: FREE
Party Elements:
– Open Format Set By Billy
– Free Shot Every Hour
– Limited Santa Suit Available For Sales