09.15 769 BQ 团圆派对 / 09.15 769 BQ Reunion Party
September 15, 2018 @ 20:00

-

September 16, 2018 @ 20:00
我们的三周年派对快到了。
在我们22号的大派对之前,这周六将举办769 BQ团圆派对。
你是我们769 BQ这一群人吗?
Our 3rd anniversary is coming soon.
Before the big party on the 22nd, we are organizing the 769 BQ Reunion Party this coming Saturday.
Are you part of the 769 BQ gang?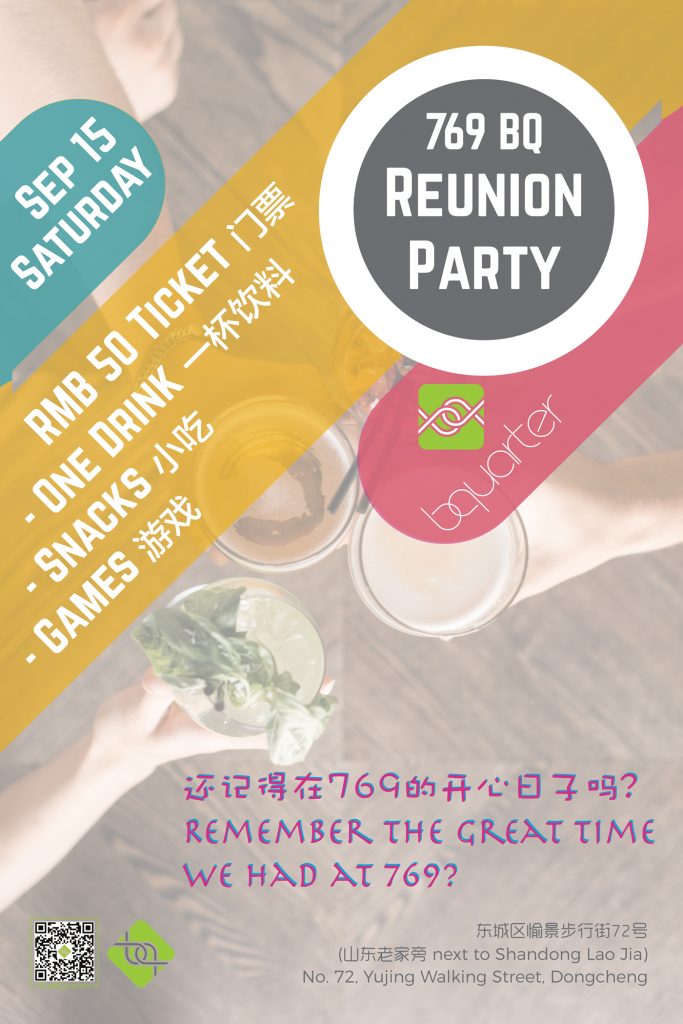 我们有一些老朋友这周六举办了这个769 BQ团圆派对。
很希望769 BQ群的朋友都能来参加。
你们也可以带上一位新朋友一起参加。
门票每位50元(包含一杯饮料)。
请你带上一份小吃,这才是769 BQ群的传统。
Some of our old friends are putting a reunion party together this Saturday.
We would love you to join if you were part of the gang.
Feel free to bring a new friend with you too.
RMB 50 ticket will be charged for each person and one drink will be included.
Please bring a food dish to join the party, the 769 BQ gang should know why we are doing that.
让我们回顾一下769的开心时光。
Let's take a look at some of the great fun we had at 769.