04.28 东城步行街街头派对 / 04.28 Dongcheng Walking Street Block Party
April 28, 2018 @ 20:00

-

April 29, 2018 @ 20:00
爲了迎接即將到來的這個夏天,我們想在這個星期六以一個大型的街头派對開始。
這一次,B Quarter 將與我們的兩個鄰居,Muzika 和 Partyground 趴地莞一起搞。
To prepare for this upcoming summer, we want to start it with a big Block Party this Saturday.
This time, B Quarter is going to work with our two neighbors, Muzika and Partyground.
1. 一個單一的音頻系统 / One Single Audio Source
当天三個商店的音響系統將連接到一個單一的音頻系统上。
歡迎我們三家的客人穿梭在這三個酒吧之間,這也是這個街头派對的主要目的。
All three shops' sound systems will be connected with one single audio source.
Our guests are welcomed to hop between the three bars and that's the main purpose of this Block Party.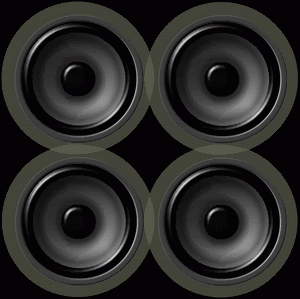 2. 嘉宾 DJ / Guest DJ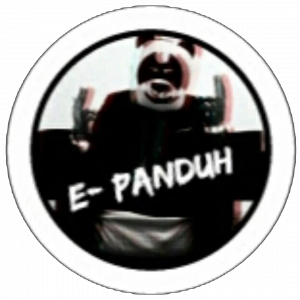 我們的好朋友 E-Panduh 將在這個街头派對上爲我們演出。
他已經爲這個演出做了很長時間的準備,而且他將會用他的音樂和装扮給我們一個驚喜。
Our good friend, E-Panduh will be spinning for us at this Block Party.
He has been preparing for this gig for a long time, and he is going to surprise us with his music set and outlook.
3. 食品飲料摊位 / Food & Drink Stands
派对上會有食品攤位。
每個酒吧都會有特別的派对酒水供應。
Food stands will be available at the party.
And special party drinks will be offered at each of the bars.
4. 有獎遊戲 / Games with Prizes
我们三個酒吧將組織不同的飲酒遊戲。
挑選你喜歡的,看看你是否有機會贏得獎品。
Different drinking games will be organized at the three bars.
Pick the ones you like and see whether you have the chance to win some prizes.
5. 幸運抽獎 / Lucky Draw
派对券將發放給購買派对酒水的人。
所有可以集齊三个印章的朋友都能参与抽獎。
我們將抽籤三次,每位獲獎者將得到一瓶洋酒(金酒、朗姆酒、龙舌兰酒、伏特加酒)- 只在派對上饮用。
Block Party vouchers will be given out to individuals who purchase the drink specials from the bars.
People can enter the lucky draw once all three bar stamps are collected.
We will be drawing three times and each winner will get a bottle of liquor (gin, rum, tequlia, vodka) – consume at the party only.
6. 我們的主題 / Our Themes
在這個街头派对上,我们三個酒吧当晚都有自己的主題。
看看海報上的細節。
In this Block Party, each of the three bars have our own theme of the night.
Check out the posters with the details.
B Quarter – 春天派对 / Spring Party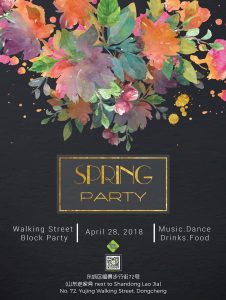 Muzika – 两周年 / 2nd Anniversary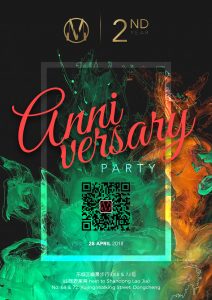 Partyground 趴地莞 – 刺青之夜 / Tattoo Night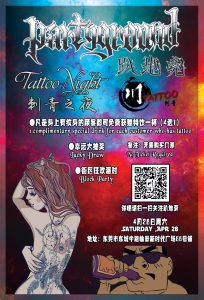 日期/时间: 2018.04.28 (星期六) 20:00 开始
地点: B Quarter & Muzika & Partyground 趴地莞
地址: 东莞市东城区愉景步行街 66 & 68 & 72号 (山东老家旁)
入场费: 免费入场
派对元素:
– 單一音頻系统
– 特邀嘉賓E-Panduh
– 食品和飲品摊位
– 有獎游戏
– 幸運抽獎赢洋酒
– 三個酒吧的不同主題
Date/Time: 2018.04.28 (Saturday) starting @20:00
Venue: B Quarter & Muzika & Partyground
Address: No. 66 & 68 & 72, Yujing Walking Street, Dongcheng (next to Shandong Lao Jia)
Entry Fee: No entry fee
Party Elements:
– One Single Audio Source
– Special guest E-Panduh
– Food and drink stands
– Games with prizes
– Lucky draws to win liquor bottles
– Individual theme @ each of the three venues