01.06 小黑屋"扁桃体"系列 / 01.06 Black Room "BT40TI769" Edition
January 4 @ 08:00

-

17:00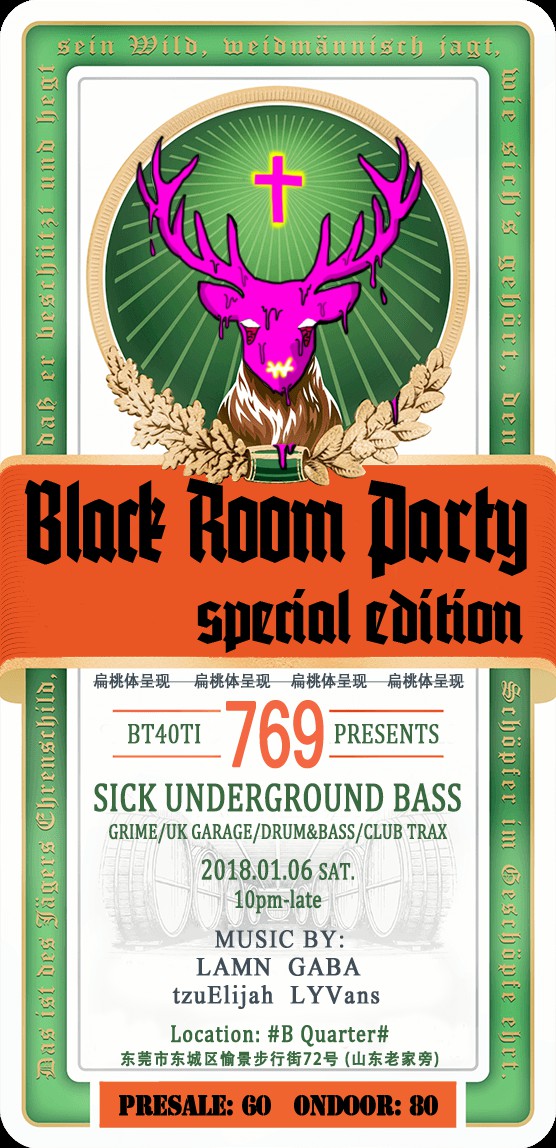 "小黑屋"是 B Quarter 的一个很特别的主题派对,现在我们想在2018年用一个很特别的方式去开始。
所以我们邀请了扁桃体整个团队来开始我们的第一个"小黑屋"。
2017年他们在769旧店做过两次的派对,然而每一次的派对都令大部分的人喝醉。
他们有很独特的音乐风格,没有商业EDM,肯定会给你们一个很不一样的派对感受。
"Black Room" has been our unique event at B Quarter, and we would like to start 2018 with this special theme event.
And we would like to bring the BT40TI769 team to execute this special gig.
They came twice in 2017 at our 769 shop and they made everyone drunk at both parties.
With their unique music taste (no commerical EDM), you sure will have a totally different experience.
让我们看下当晚的DJ / Let's check out the DJ lineup on Jan 06


他们都是野格的粉丝,所以全部的宣传资料都是按野格的风格去设计的。
让我们看一下他们做了一些怎样的宣传。
The team just loves Jägermeister and all the promotion materials are based on that.
Take a look at the works they have done!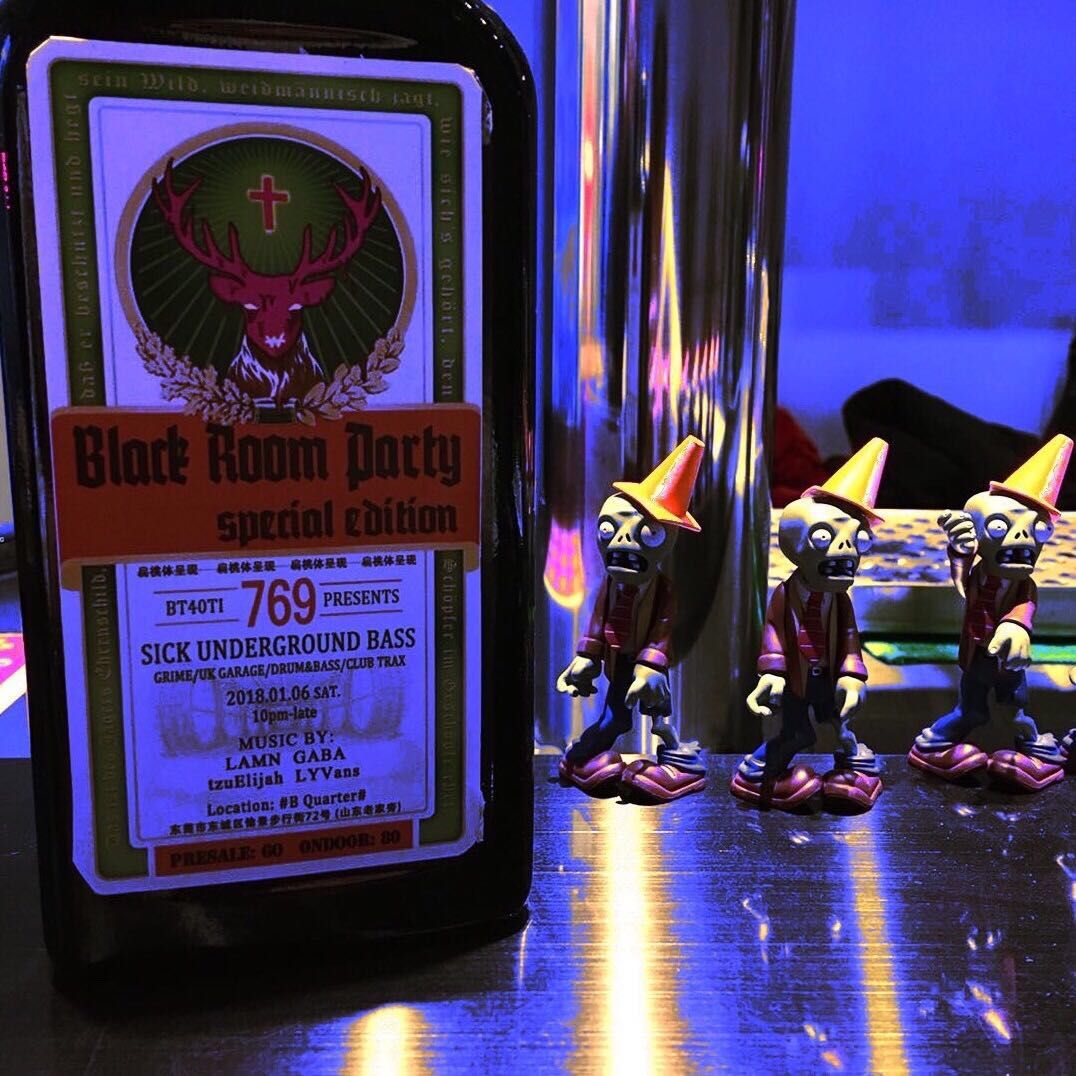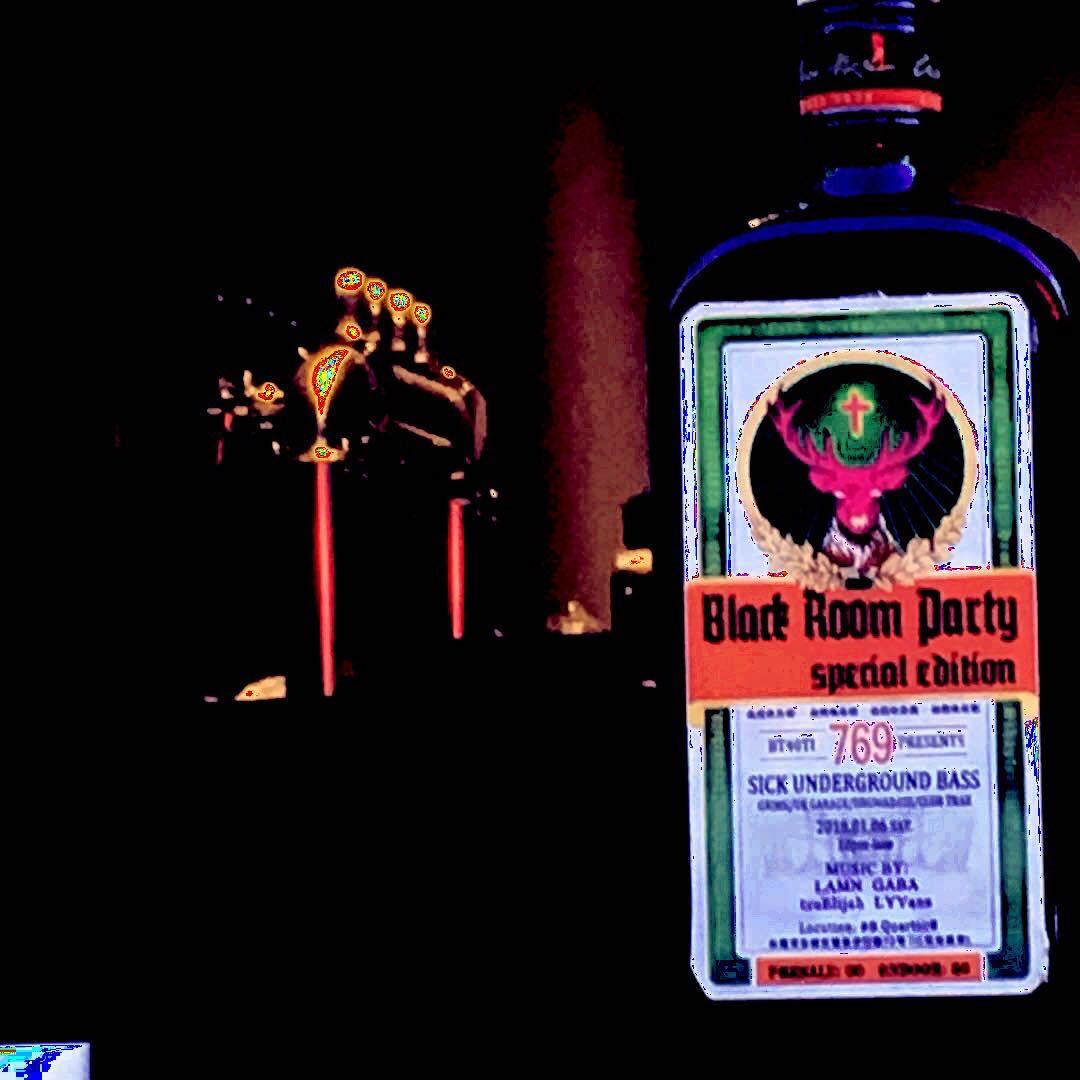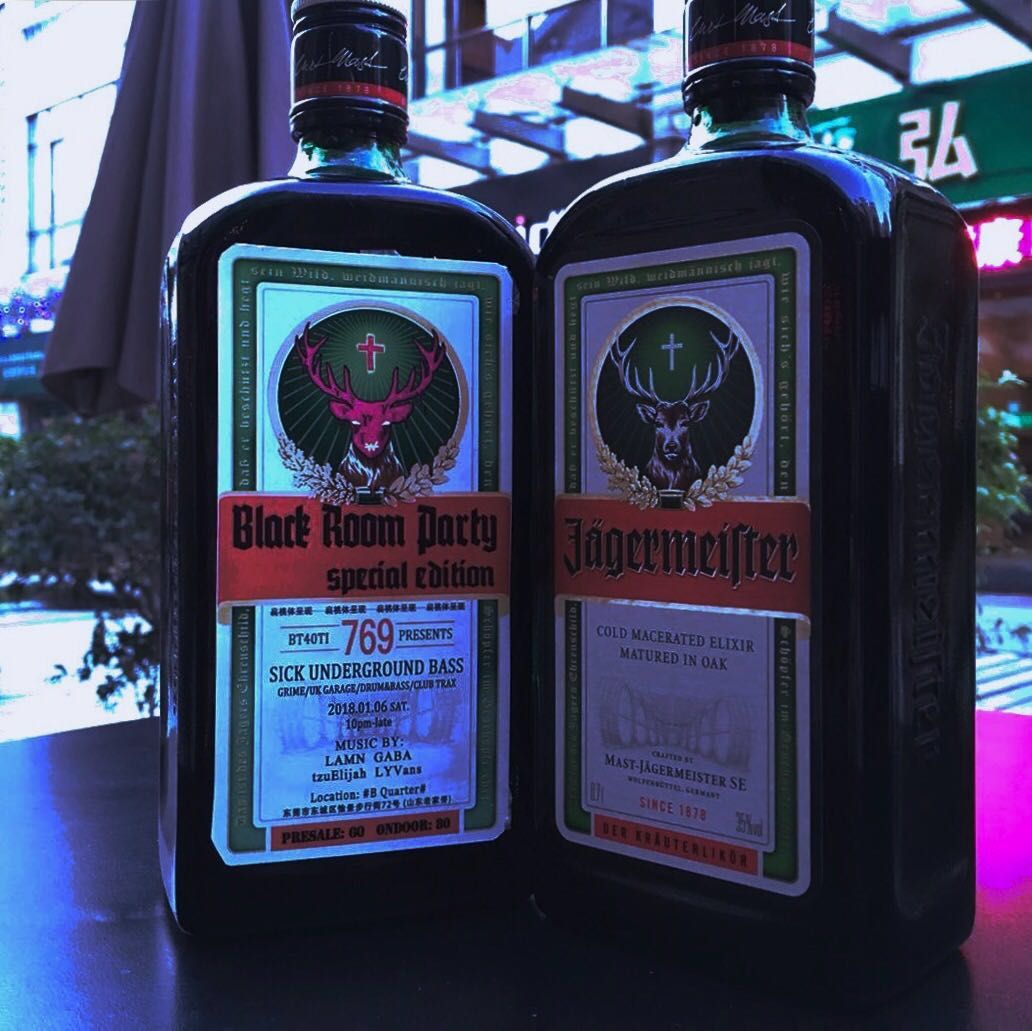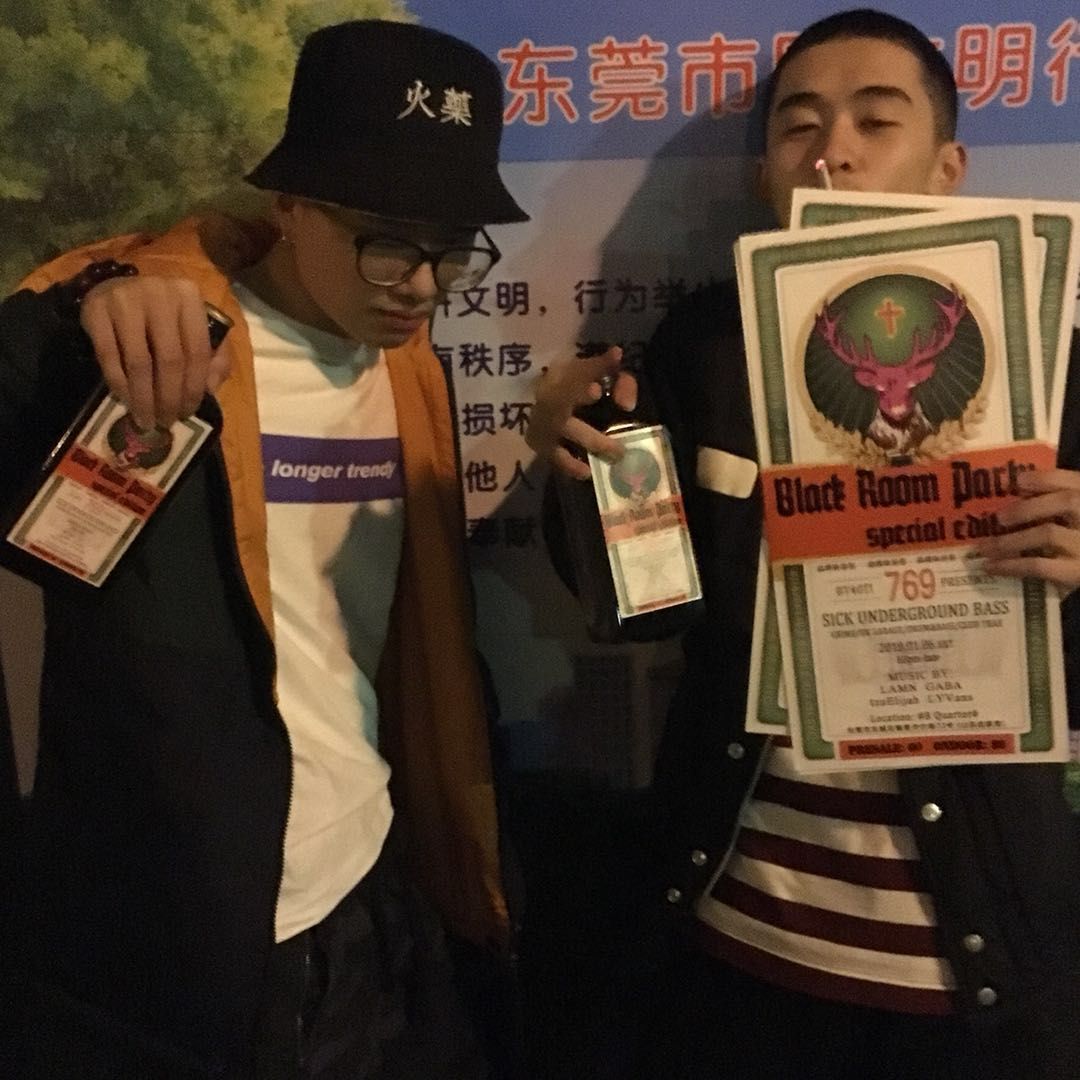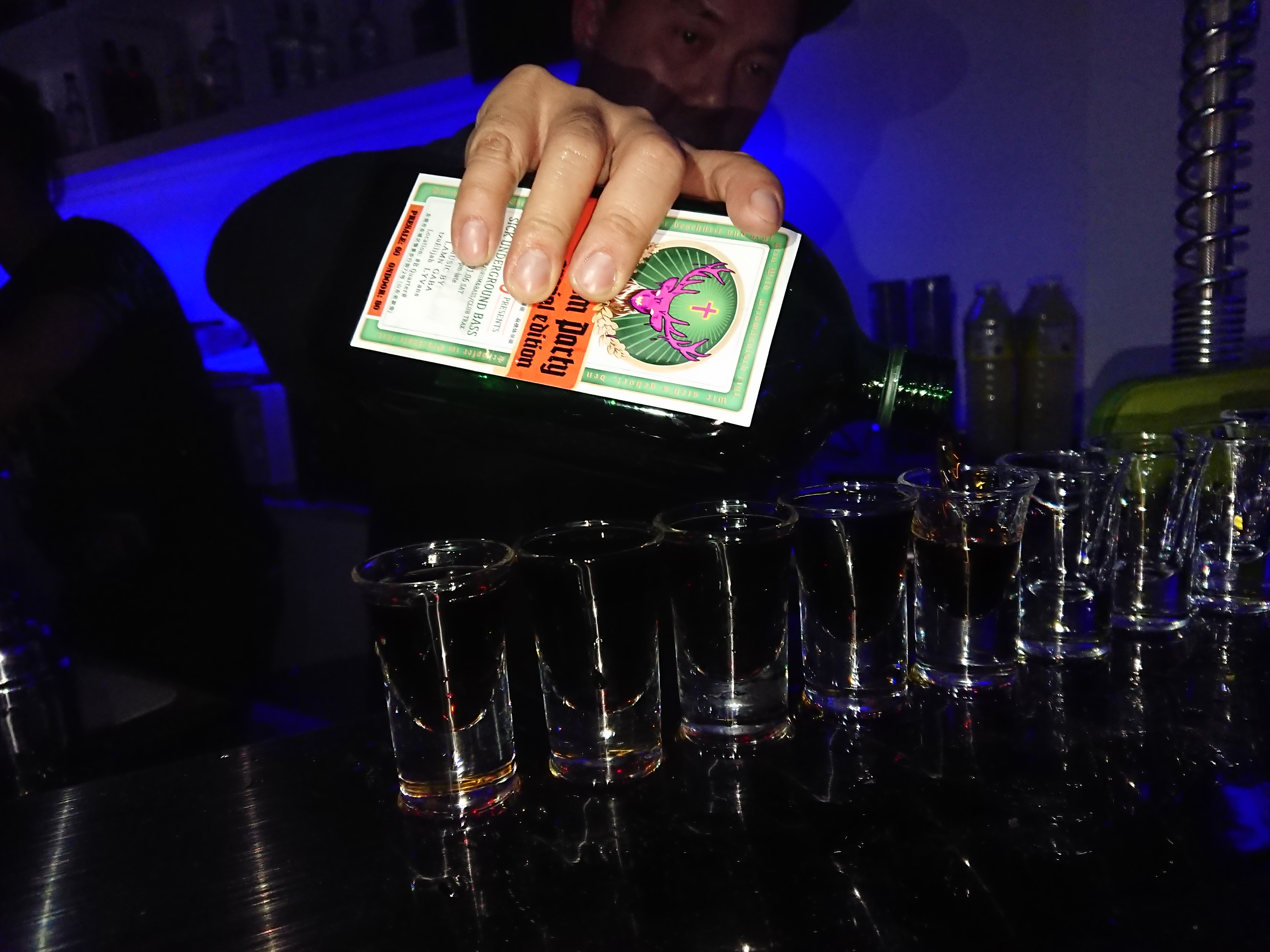 门票包含两杯短饮(野格或龙舌兰)。
请在以下人员中购买门票。
预售票60元至派对当天6点之前,现场票是80元在现场购买。
2 shots (Jägermeister or tequila) will be included in the ticket.
Please buy ticket from one of the below WeChat contacts.
Advance tickets (RMB 60) will be closed at 18:00 on Jan 06.
Door tickets (RMB 80) will be available during the party.
日期/时间: 2018.01.06 (星期六) 22:00 开始
地点: B Quarter
地址: 东莞市东城区愉景步行街72号 (山东老家旁)
入场费: ¥60 的预售门票包含杯短饮 (预售票,1月06日下午6点停止售票), ¥80现场票
– 联系日或 Hugo 购票,票量有限
Date/Time: 2017.01.06 (Saturday) starting @ 22:00
Venue: B Quarter
Address: No. 72, Yujing Walking Street, Dongcheng (next to Shandong Lao Jia)
Entry Fee: RMB 60 with two shots (advance ticket, no more ticket sales after 18:00 on Jan 06), RMB 80 door tickets
– contact 日 or Hugo to get tickets, limited tickets available